New electric buses launched for Salisbury's park and ride services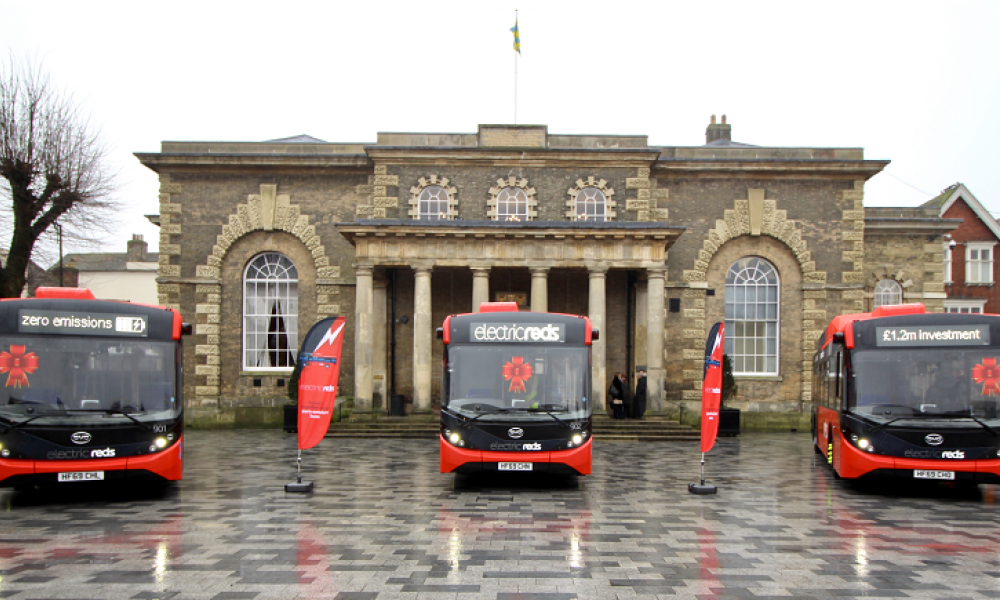 Local people and visitors joined representatives from Go-Ahead owned Salisbury Reds and Wiltshire Council today, to take their first ride on three brand new electric vehicles for the city.
A total investment of £1.2 million paved the way for the latest additions to the city's park and ride services, following a successful bid by the local bus operator and Wiltshire Council for £600,000 of Government funding.
The move means greener and cleaner journeys across the region.
"Together with Wiltshire Council, our team worked incredibly hard to gain government support, under the Low Emission Bus Scheme, for this important initiative," said Salisbury Reds managing director, Andrew Wickham.
"It's all about helping to lower emissions across the UK, following the publication of the government's draft Air Quality Plan, and I am delighted that Salisbury Reds is at the forefront of that project here in Wiltshire.
"Buses are the perfect solution to improving air quality in our towns and cities. I'm very much looking forward to seeing these three new electric vehicles out-and-about across Salisbury and the surrounding area."
Cllr Bridget Wayman, cabinet member for highways and transport, joined those journeying on the buses for the very first time: "We're delighted that three new electric buses are now serving our park and ride sites in Salisbury," she said.
"These buses represent a significant investment in the city, and will help to reduce the environmental impact of visitors and improve air quality. This is an important part of our pledge to become carbon neutral by 2030, and we hope that by leading the way with initiatives like this, it will inspire people and other organisations to make a positive difference.
"I'd urge all visitors to Salisbury to use the five park and ride services where possible, as this will have a positive impact on reducing pollution and congestion, and it also allows easy access to our beautiful city."
For more information about Salisbury Reds, please visit salisburyreds.co.uk
by Go South Coast
Other News