New double decker vehicles for Morebus route 13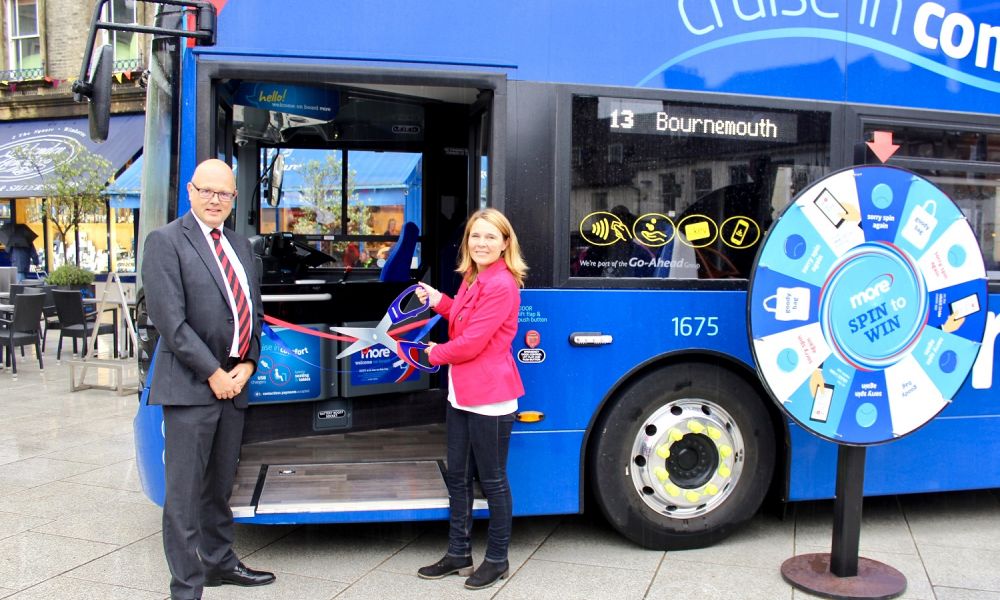 Morebus has invested in the new British-built ADL Enviro 400 double deckers - increasing capacity and cementing its commitment to lowering emissions across the region.
"These new buses for the Bournemouth to Wimborne service follow our recent introduction of a fleet of 41 single decker buses for the M1 and M2 routes," said Morebus managing director, Andrew Wickham.
"Bus travel in Dorset is popular - and I'm delighted that we have been able to invest £8 million in our Morebus fleet during recent years.
"This latest move is in direct response to an increase in the number of passengers travelling along this popular route. We're delighted more of our customers are choosing to leave their cars at home to travel with us on buses equipped with Euro 6 low emissions diesel engines and start/stop engine technology - that can only be a good thing for improving air quality in the region."
One of the new buses, which sport a distinctive look, was launched by Andrew Wickham and the leader of BCP Council, Councillor Vikki Slade, during an event in Wimborne Square, before entering service along the Morebus 13 route.
"We are incredibly proud of our new, greener, buses," added Andrew. "As with all our new vehicles, on-board technology includes USB charging points for smartphones and hand-hand devices, as well as contactless ticketing."
Councillor Vikki Slade added: "I was delighted to join Andrew Wickham to launch these impressive new buses. Not only do they have a smart new look, they are incredibly comfortable and are far kinder to the environment than previous models. Buses like these provide us with an excellent opportunity to improve air quality and reduce congestion across our region."
For more information about Morebus, please visit morebus.co.uk
by Go South Coast
Other News