Fee-fi-fo-fum….travelling by bus is the best way to join in the fun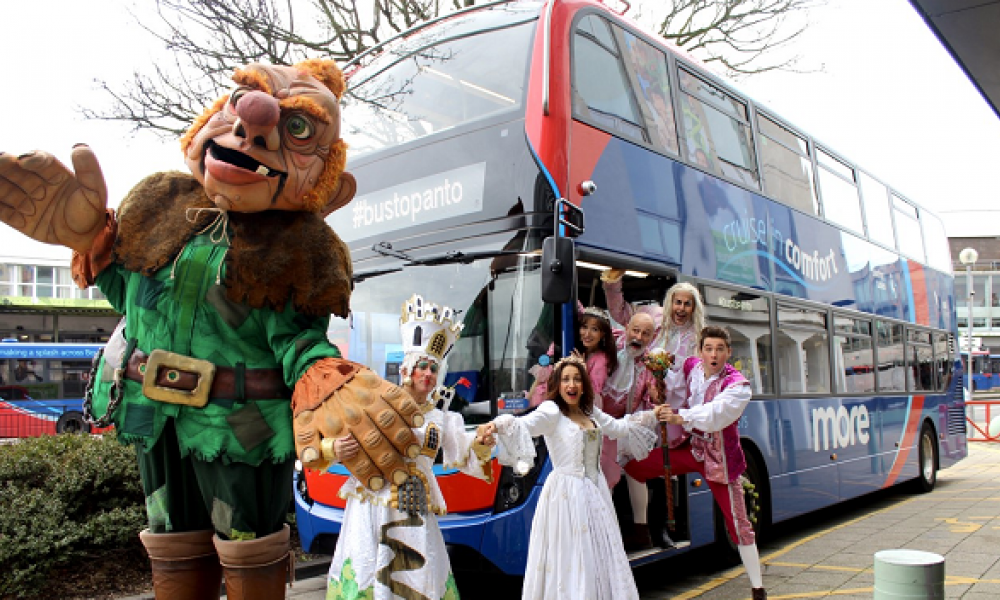 Morebus joined the cast of Jack and the Beanstalk this week - to celebrate a special partnership with Lighthouse, Poole's centre for the arts.
The bus operator is the official travel partner for this year's panto, and is encouraging theatregoers to leave their cars at home and make their way to see Jack and the Beanstalk by bus instead.
"We're excited to be joining in the fun," said Morebus' Joe Quinlan. "Jack is our hero. He does a brilliant job defeating the 14-foot gas-guzzling, plastic-loving, eco-hooligan, Giant Blunderbore.
"And we were delighted to help Jack, Dame Trott and the rest of the panto cast take refuge in one of our low emissions buses this week. Along with much of our fleet, this greener vehicle is fitted with the very latest Euro 6 engine - which emits fewer harmful particulates than a brand new diesel car.
"It's no joke that congestion is causing a reduction in the quality of air across our area - and our friends in the cast of Jack and the Beanstalk definitely recognise the fact that one bus can take up to 75 cars off the road. It also provides a pretty nifty place in which to hide from the fossil-fuelled Giant… even if he did come close!
"This festive season, there is a great opportunity for theatregoers to do the same - sit back, relax, and let us drive them all the way to the beanstalk."
Lighthouse Chief Executive Elspeth McBain added: "Lighthouse is once again delighted to be working in partnership with Morebus on a giant campaign related to our fun-filled family pantomime. We're always happy to highlight more sustainable ways of travelling to Lighthouse and we're thrilled our cast could escape the Giant's clutches thanks to Morebus."
Morebus is offering families a cheaper way to get to the panto this year. The operator has discounted its zone A Group Dayrider ticket to just £8 - meaning up to five people can travel unlimited times for the whole day for as little as £1.60. To take advantage of the offer, theatregoers must use the clickit2ride app and use the special code - JACKPANTO
Jack and the Beanstalk runs until Sunday 5 January.
For more information about Morebus and Jack and the Beanstalk, please visit morebus.co.uk
by Go South Coast
Other News