Damory joins Cinderella cast to celebrate Weymouth Pavilion panto partnership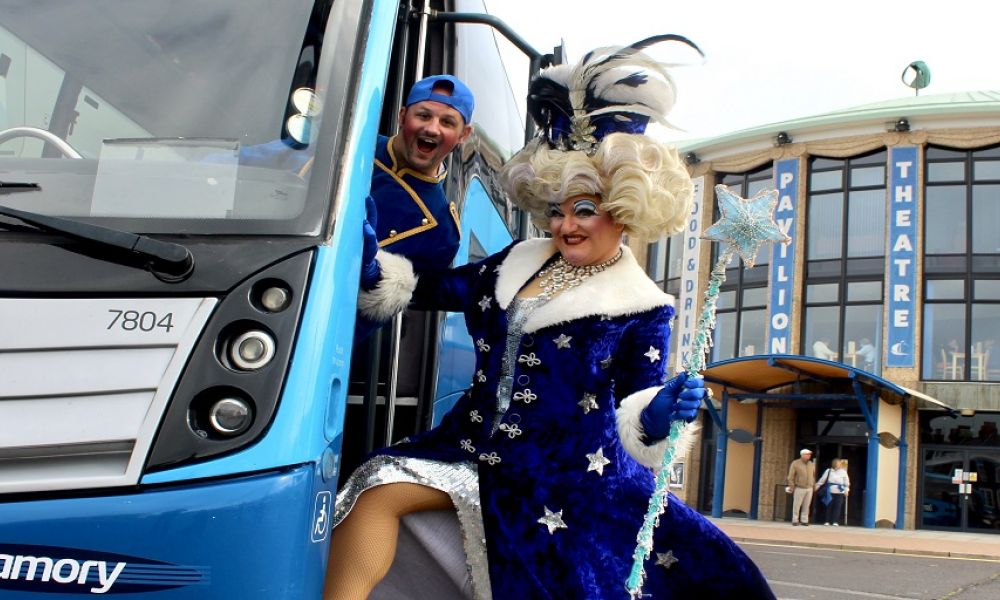 Damory joined the cast of Cinderella at the Weymouth Pavilion recently - to celebrate its support for this year's panto.
The operator is the official travel partner for the show, and is encouraging theatregoers to leave their cars at home and make their way to see Cinderella by coach or bus instead.
"We can't wait to join in the fun," said Damory's Joe Quinlan. "Cinderella really has a challenge on her hands, if she is to go to the ball, but we're sure Buttons can help with his driving skills - and theatregoers can watch all the action without worrying about parking or how they're going to get home.
"The festive season is a great time for partying and enjoying ourselves - and we're offering people the opportunity to sit back, relax and take in the show. Our coach and bus drivers are standing by to do all the work.
"We are offering special discounted coach hire rates for groups wishing to travel to the show, with a choice of departure points. Alternatively, for those attending matinees, our 5 (Dorchester to Weymouth) and X12 (Blandford to Weymouth) routes run to Weymouth Kings Statue - a short walk away from the theatre. So catching the bus just couldn't be easier.
"As official partners of the show, we're also offering chances on social media for Damory customers to win tickets for the panto."
Weymouth Pavilion's marketing and box office manager, Chris Cole said: "A trip to the Pavilion's pantomime has become an important part of Christmas celebrations for families and groups of all ages, with many performances selling out. We're delighted to be partnering with Damory on Cinderella."
Cinderella runs from Saturday 14 December 2019 to Saturday 4 January 2020.
For more information about Damory and Cinderella, please visit damory.co.uk
by Go South Coast
Other News