Chance to take the driving seat for young bus enthusiast Declan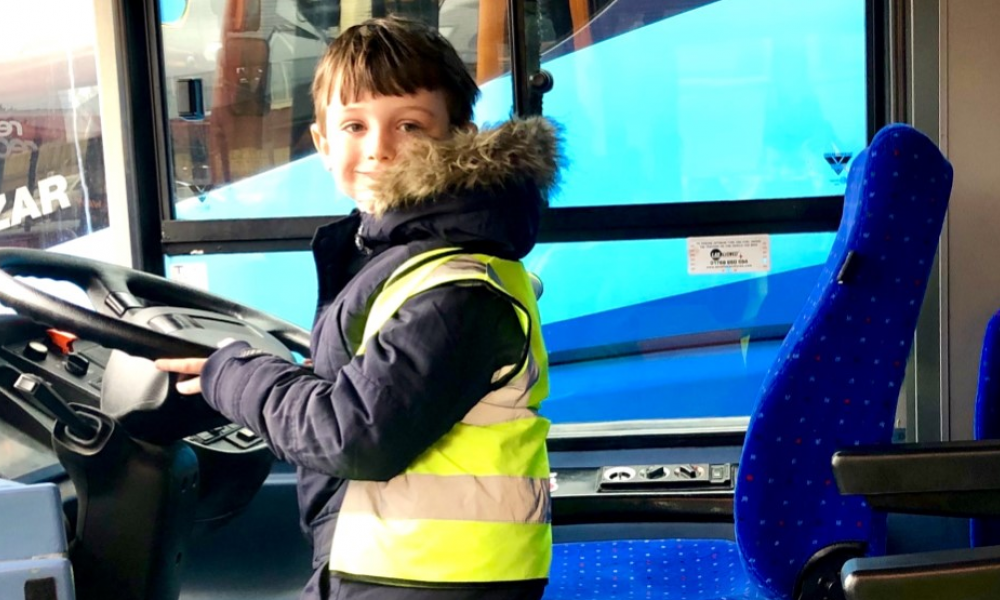 Young local bus enthusiast Declan Cartledge-Clarke (age 5) got the chance to take a glimpse into his future this week - thanks to a visit to Salisbury Reds.
The bus operator welcomed Declan, a Year one pupil at Fordingbridge Infant School, as a member of its team - putting him into the driving seat at its depot in the city."
Declan's grandma, Ann Clarke, wrote to Salisbury Reds to tell of his passion for buses. "Deccy is a regular traveller on the X3 bus," she said. "This child is, without any exaggeration, bus mad! He knows the number and destination of every bus, delights in tracing its route - and is a walking timetable.
"He seems set to run his own company one day! Buses are Deccy's first and most important consideration, with food and outer space coming in close behind."
Salisbury Reds' Alex Makwana, added: "It was great hosting a youngster who has such a passion for buses. His family contacted us before Christmas - so we sent him a special Christmas card with a golden ticket inside, inviting him to take a trip behind the scenes.
"There was little we could teach him during his visit because he knew so much - but I could see he was thrilled by the tour of the depot. Though it's a few years into the future, I predict a brilliant career ahead of him within the bus industry if that's what he chooses to do - and I look forward to our paths crossing again."
Declan, who brought his grandparents Ann and Alan along for the day out, said: "Thank you to Salisbury Reds for taking me around the bus depot, and for my bus book. It was funny when my grandma went through the bus wash! The next journey I am planning is the 37."
by Go South Coast
Other News