Bluestar travel partnership for Nuffield Southampton Theatres' new musical CinderElla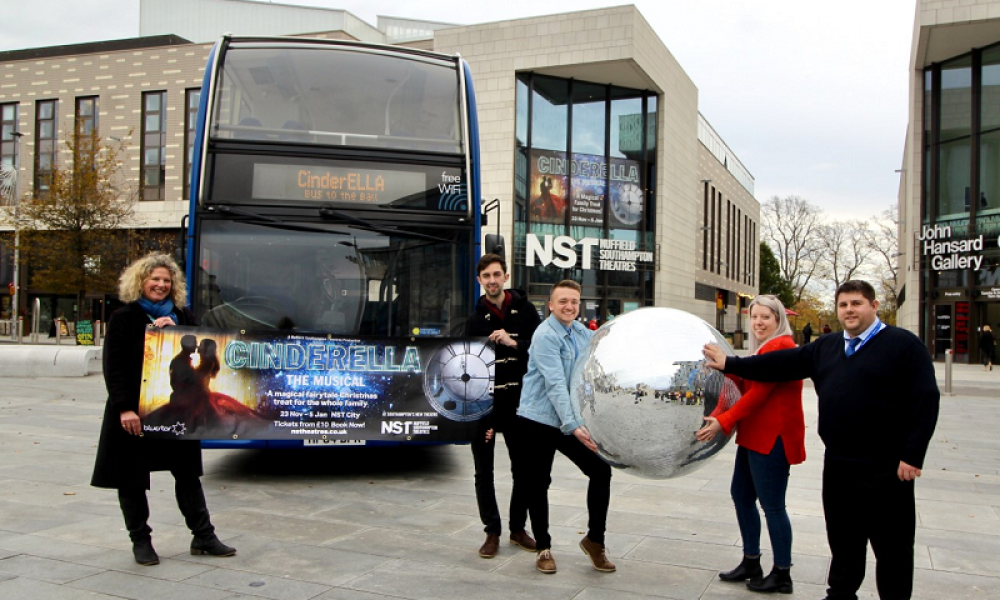 Bluestar will be supporting this year's much-anticipated Christmas production - CinderElla A New Musical - as the official travel partner for the show, and is encouraging theatregoers to leave their cars at home - and make their way to see CinderElla by bus instead.
"We can't wait to join in the fun," said Bluestar's Joe Quinlan. "CinderElla is a wonderful musical take on the classic story, but with a hilarious twist. It promises to be a real treat. And there's no need for theatregoers to be late for the ball this year.
"They can watch all the action without a care in the world - because our drivers are standing by to do all the work. There's no need to worry about parking or how they're going to get home, and it's a cleaner, greener, way to get to the show - with many of our buses now running the latest low emissions Euro 6 engines.
"Tickets for the show start at just £10 but - from now until 6 December - Bluestar customers can get 20 percent off their tickets when they book at the box office or online. We are also offering chances on-board for Bluestar customers to win tickets for the show – so keep an eye out when you travel for us."
CinderElla combines Freaky Friday with a tale as old as time, to offer a hilarious musical treat for the whole family. The show is a magical fairytale extravaganza featuring step-nieces Ivanka and Melania, the hopelessly in love Daniel Deeni, and the nice (but dim) Prince Tim (Charming!)
Bill Sainsbury, head of marketing from Nuffield Southampton Theatres, said: "We are delighted to be working in partnership with Bluestar as our official travel partner for our Christmas family production, the world premiere of CinderELLA A New Musical at NST City, Southampton's new city centre theatre. We passionately believe in encouraging our audiences to use greener cleaner transportation to visit us and Bluestar has made this just the ticket!"
CinderElla runs from Saturday 23 November 2019 to Sunday 5 January 2020. For details of how to buy discounted tickets, and for terms and conditions, Bluestar customers should check the operator's website
For more information about Bluestar and CinderElla, please visit bluestar.co.uk
by Go South Coast
Other News